For a decade, Facebook has been the number one online platform for connecting people all over the world. The most popular social media platform has helped to bring the world closer than ever, connecting friends with families and businesses with clients/customers. Starting as a platform for sharing adorable photos and uploading cute videos, Facebook has grown to be a marketplace for buying and selling products and services. Now, you can dropship on the Facebook marketplace and make money either part-time or full-time. A lot of folks are wondering how to dropship on Facebook Marketplace. In this article, we will share simple steps and actionable tips on how to dropship on Facebook Marketplace. Stay tuned!
E-Commerce, as regarded by many users, has helped a lot of individuals, brands, and businesses to increase sales and expand their businesses. Being the most popular social media on the planet, Facebook boasts hundreds of millions of active users which is a major recipe for generating huge sales. This makes selling on Facebook Marketplace is a good idea for both small and big businesses. For beginners, Facebook Marketplace can be a good starting point to build your customer base or clientele. For those who are already selling on Amazon and eBay, Facebook Marketplace can help you find more customers and expand your reach. Plus, your customers are most likely hanging out on Facebook more than on your website or any other online platform.
Is Facebook Dropshipping Profitable?
Before venturing into any business [either online or offline] you first need to know whether it is profitable or not. According to Facebook, the purpose of creating its marketplace is for the benefit of both users and businesses. For businesses, Facebook wants to help them sell their offerings. For users, Facebook hopes to create a shopping experience for those whose chore is buying. But that's not enough – every company will, at all times, say something good about themselves. Yes, Facebook has millions of daily active users. But does that alone guarantee success? No. A novice would think that these numerous audiences will be automatically turned into real buyers without any effort. No. The process of buying and selling on Facebook isn't as easy as it might seem and unless you map out a working strategy, you may not achieve success. Meanwhile, there are numerous testimonies of people who have enjoyed huge success using Facebook Marketplace. One of which is Paul J Lipsky's. 
Paul is YouTuber and an eBay dropshipper. Boasting over 70,000 YouTube subscribers, Paul claims he made over $600 in profit within 7 days. All he did was dropship random Amazon products onto Facebook Marketplace. Just because Paul did it in 7 days doesn't mean you will achieve the same feat; he had a massive YouTube audience base and is experienced in eCommerce marketing. Beginners are most likely to make mistakes but once you can decipher the code, you will quickly pick up. 
So, yes – dropshipping on Facebook Marketplace can be profitable. And this could be the right time to leverage Facebook as a selling platform.
In comparison with Amazon or eBay or Shopify dropshipping, Facebook marketplace dropshipping has an advantage in that its users spend an average of around 1 hour per day exploring their favorite social media platforms. A large chunk of this time is dedicated to Facebook shopping, clicking on links, watching product ads, and all that stuff. And if Facebook users aren't shopping they are busy socializing and vice versa. Unfortunately, other marketplaces aren't as interesting as Facebook – if you are not shopping on Amazon, you have no business there. This gives Facebook Marketplace a competitive edge.
However, buying and selling on Facebook comes with a major restriction – geographic boundaries. Although you can sell just any product on Facebook [unlike on Amazon], the services are only available in around 50 countries globally. Payment limitation is another major challenge for those using Facebook Marketplace. There are not too many options available like there are on eBay, Shopify, and Amazon. Plus, you may be doing more local sales on Facebook. Therefore, you should consider these points when choosing a platform to launch your dropshipping business. So, while Facebook allows you to own an online store where you can showcase your goods for free, you can streamline your activities on Facebook to business promotion while running your dropshipping operations on a more convenient platform.

Before you start reading this article, you may watch this 4-min video below to get an overview.
5 Simple Steps To Facebook Dropshipping
Now that you've learned the basics of Facebook dropshipping, here are five easy steps on how to dropship on the Facebook marketplace.
Create a Facebook shop page
Let us assume that you have not created a Facebook Shop page before. It is easy but you first need to create a Facebook account and a Facebook business page. Just visit Facebook and signup for a Facebook account. After that, you can create a Facebook business page. You probably find your way through easily so we'll move on. From the Facebook page, you can now create and set up your Shop. 
Configure your page's template
Your page comes with a default appearance but you can modify it by changing the template. This might seem easy but it's quite technical. The major thing here is to select a template that befits your business model. After changing it, edit the option that shows products by default.
Sales: this highlights images and products.
Services: creates a connection between the user and the supplier.
This will enable the "Shop" tab to show and then you can begin the configuration process.
Setting up your shop
Setting up your shop entails a lot of things like call to action, payments, and page descriptions. 
CTA [Call to Action]: Here, you can choose what action will take place when a user clicks on your product. Facebook provides two options which are: 
Open a chat box to add more details and close the sale.
Redirect the client/customer to your website to complete the payment process.
If you offer services, initiating a conversation before selling them is necessary. Through this, you can get more leads [for email marketing] and still make sales. But for less expensive products, the second option is more appropriate. However, if you offer personalized or expensive products, then offering more information before selling is a good idea. 
Configure payments
Setting up payment is an important aspect of setting up your store. Facebook will provide you with different currency options to choose from depending on your country of operation. For businesses based in the United States, the most common option is to link a bank account where the funds from orders will be deposited. For locations outside the United States, you have the option to set up payments via Stripe or PayPal. 
Note
Due to Stripe and PayPal's frequent updates, the integration process might change. 
If you are an EU-based user, in some instances, you might not see the section to set up payment. In that case, you can skip to the next step. Once you complete other steps, you'll be asked to set up your payments before publishing your shop. Now click on the "Set Up Payments" button to continue. Make sure you add accurate information before you click the "Save" button. 
Add a description
The final step in this section is to add a description of your shop. When adding a shop description, make sure you write what your business is all about, what you sell, your mission/vision, and how your business is going to help users. Your Facebook shop description needs to be clear, concise, and original. 
Add products
After the first three steps, it is time to add products to your shop. Adding new products is very easy but there are a few things you need to bear in mind. 
Images: Images should be at least 1024 x 1024px, square, and on a white background.
Be patient: After uploading one picture, you will need to wait around 5 – 10 minutes for it to be validated before publishing.
Variation: These are colors, size, weight, etc. and Facebook allows up to four on each store. 
Product collections
Once uploading your products, you need to group them as a collection. Facebook's product collection is the same as the product category in eCommerce. Organizing your products into collections makes it easier for your customers to browse your store. It increases your conversion rate as well as the chances of clicking. 
Promoting your Facebook store
You are almost done but you still need to let the world know about your store. Creating offers is a useful option for your sales promotions. Facebook allows you to create a temporary offer that will be shown to your followers as though it were a normal post. You can add coupons if you have and also limit your offers. 
Order management
Facebook offers more comprehensive options when creating a shop. For example, you don't need to update prices and stock after each change you make. The order management feature allows easy you to synchronize your eCommerce products to your Facebook store. The major drawback is that the order management feature is available for Facebook stores in the United States and a few other countries. 
Do you have the Order Management feature? How to check!
From the main menu, go to "Publishing Tools", search for the "Pending Orders" link in the sidebar. If you find it there, then your store has order management!
With the order management feature, you can:
easily handle orders – Facebook will notify you whenever an order is placed
check every buyer's information
communicate with buyers
fulfill orders
NOTE: You must ship each order within 3 business days after receiving the order. And after shipping the order, you'll need to click on the "Mark as Shipped" button to finalize everything.
5 Actionable Tips For Facebook Marketplace Dropshipping
Upload quality product images
Let your shop description be original and contain every information about your business
Organize new items to their respective collections
Promote your listings on

social media

 email marketing
Find reliable dropship suppliers: Before dropshipping on the Facebook marketplace, you need to find a trustworthy supplier. Selecting suppliers is a crucial step that every online retailer needs to take. Some factors need to be taken into consideration before choosing a dropshipping supplier. They are product quality, delivery time, pre-order fee, location, MOQ [minimum order quantity], number of warehouses, price margin, shipping fee, etc.
Where to find reliable dropshipping suppliers?
One thing you need to know is that dropship suppliers don't look for you, you look for them. This makes finding the right dropshipping supplier for your business somewhat difficult. It can even be more difficult if you are selecting a supplier from Asia – the language barrier could be a limitation. Nevertheless, you can still find the right dropship supplier for your business. Note these few points:
Research which dropship supplier best suit your need. Consider both local and international suppliers. Remember to check the services offered as well as delivery times and product quality.
Contact suppliers and begin a relationship with them. This starts by asking relevant questions and getting their contact information as well as confirming their business registration. 
Ensure that the supplier invests in technology that helps to simplify the order process. 
Order samples from the top 3 or 4 suppliers you'd love to do business with to have a first-hand feel of the kind of services that they will render. 
You can also order from your supplier's competition to compare the level of service. 
The right supplier for your business
The SaleYee platform is a wholesale and dropshipping platform that connects dropshippers to suppliers and products. The SaleYee dropshipping platform offers over 30,000 products from trustworthy suppliers in profitable niches. Their products include kitchen, instruments, computer accessories, beauty products, jewelry, electronics, clothing, toys, and more. Using this platform is completely free; you don't have to pay a dime to access their list of dropshippers. One interesting thing about the SaleYee platform is that they provide marketing materials to help both beginners and experts grow their businesses. saleyee.com also allows you to sync inventory and auto-upload product data, connecting your store with platforms like Shopify, Amazon, and eBay.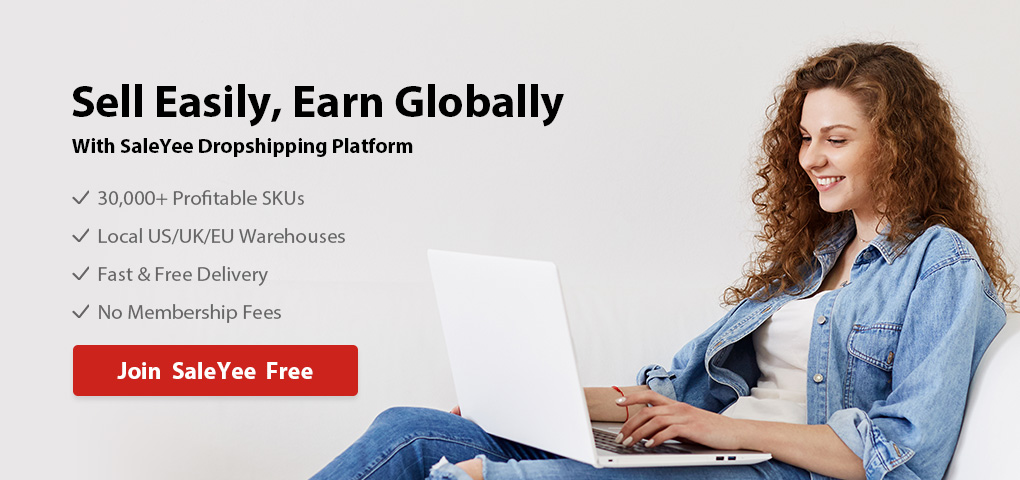 Wrapping Up
That's it! You've just learned about dropship Facebook marketplace and how to create your own Facebook Shop. Every online marketplace has its benefits and drawback. As such, your business needs to evaluate the various online marketplaces based on their own specific needs and use cases. The Facebook Marketplace is a good place to begin your dropshipping adventure. Before getting started, we recommend that you seek assistance from Facebook Help Center on how to perform some specific operations.