SaleYee.com, unveils the logo and slogan to convey the excellent dropshipping services we bring to online retailers. As a cross-border e-commerce dropshipping platform, we focus on two-way empowerment for both distributors and suppliers. Positioned as one of the best dropshipping suppliers, we interpreter the slogan "Sell Easily, Earn Globally" as the commitment to handling the heavy lift and growing business of both sides.
To meet the demands of online consumers whose numbers surge during the pandemic, many retailers start dropshipping business model that supports local shipping and fast delivery. Serving to provide low costs of logistics, sufficient inventory, and overseas warehousing, the SaleYee platform, is here to offer global online sellers the answer to how to dropship and to expand their dropshipping businesses whenever they need. 
Brand Identity Launched with Brilliant Logo
We choose red and black for our logo design.
Red represents passion, warmth and vitality, and evokes our awareness of being passionate, high-spirited, and striving forward. It also clearly demonstrates our strong sense of industry responsibility, continuous pioneering spirit and sincere service enthusiasm.
Black signifies maturity, calmness and wisdom, reflecting the rational, steady, unwavering, and fearless spirit of website metrics. 
The fonts are all designed with openings, which can be interpreted as openness, tolerance, intercommunication, and innovation. SaleYee.com is intended to break the barrier of traditional e-commerce, link the superior resources of the supply chain, and accept more high-quality customers so as to create a more convenient cross-border dropshipping business model.
Evolving from a circle, the logo is a symbol of a gold coin or earth, fully exemplifying SaleYee's endeavor to empower distributors and suppliers in both directions, working together for a mutual benefit and a better future. 
Professional Dropshipping Services Provided by SaleYee.com
Differentiated from most dropshipping wholesalers or dropship tools, SaleYee is a global dropshipping platform that connects high-quality cross-border supply chain resources such as products, logistics, warehousing, finance, etc., with global sellers on Amazon, eBay, Wish, Walmart, Shopify and other online marketplaces. The deep business insights backed by more than 10 years of in-depth market research help our professional group to specialize in solving business problems such as difficulty in product selection, limited funds, a high threshold for overseas warehouse services, and complicated after-sales issues.
Set Free from Financial Pressure
Our dropshipping model saves every dropshipping seller's trouble in stocking and shipping. Without risk in inventory and difficulty in finance, SaleYee's users can place a large focus on marketing and sales strategies. The payment cycle can be shortened by the fast free delivery powered by local warehouses and logistics systems on this dropshipping website.
Massive Quality Dropshipping Items
Unlimited product resources with a price advantage support global distributors to get full access to simple & easy product sourcing. 12 major product categories such as home & garden, sports & fitness, health & beauty, pet supplies, toys, etc., with 30,000+ winning dropshipping products are selected by our big data, and 1,000+ potential new arrivals are regularly launched to be listed on the dropshipping website monthly.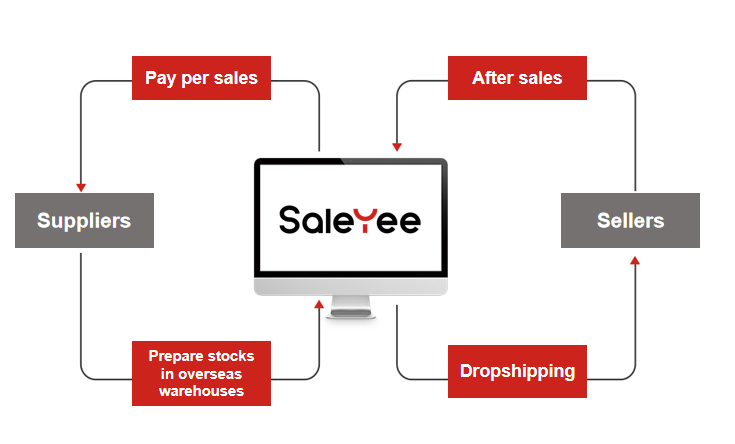 Full-fledged E-commerce Fulfillment
7 global warehouses totaling 630,000 sq.m in the United States, the United Kingdom, France, Germany and other countries support the full-fledged logistics system in every possible way. Fast dispatch in different shipping methods, with order numbers offered within 24 hours, and fast delivery within 2-8 days, greatly shortens the logistics timeliness to meet the logistics timeliness requirements of major e-commerce platforms.
Automated Integration Function
For online retailers engaged in Amazon dropshipping, eBay dropshipping, Shopify dropshipping and more, We support automated integration with online marketplaces such as Amazon, Wish, eBay, Shopify, Irobotbox, etc,. For other e-commerce platforms, online sellers can use API integration for an automated dropshipping solution that saves time and trouble. 
Worry-free After-sales Guarantee
SaleYee platform moves forward with a professional customer service team to enhance sellers' seamless, personalized and convenient selling journey by making it smooth to return and exchange products with even a three-month after-sales service period.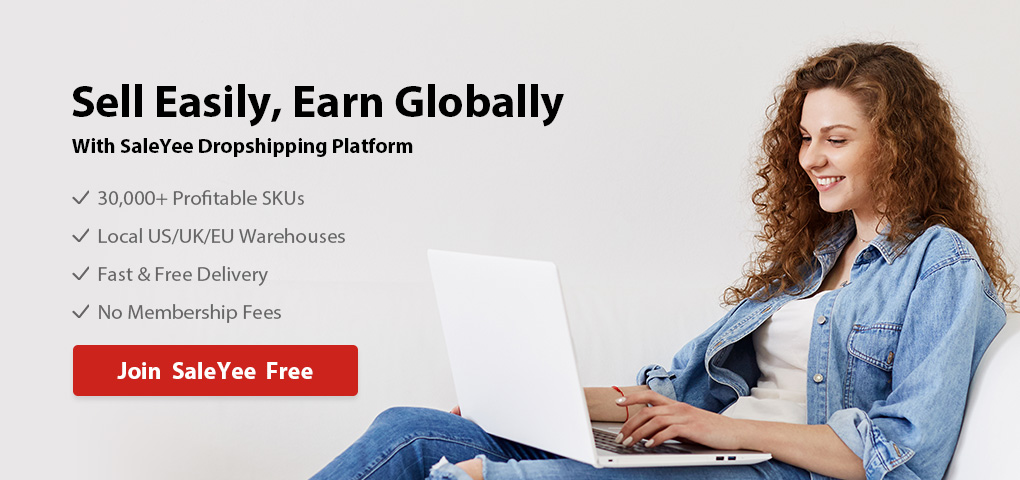 Conclusion
"The newly unveiled logo communicates our endeavors to make dropshipping easier and our ability to help sellers grow business steadily," said the Director of Marketing Department. " SaleYee is always striving to simplify the selling process and bring online sellers higher profit margin by optimizing comprehensive dropshipping services, thus better fulfilling their needs."