Do you want to wholesale baby items and include them in your next dropshipping venture? If you are, then you are in the right place. Baby products are one of the most profitable items out there, and you can quickly profit by selling these items.
Here is everything you need to know about the best six baby products wholesale suppliers out there.
SaleYee is one of the best dropshipping platforms out there. It has endless baby products you can choose from to start dropshipping.
The best part about their service is their price point, which is incredibly reasonable. The reasonable prices will allow you to dropship wholesale baby items in bulk and make a significant profit. Also, there are categories of best sellers for you to choose the baby items from, which are guaranteed to sell and help you profit in no time. SaleYee offers fast and free delivery as it has warehouses in America, England and other European countries. Moreover, it helps you to solve the after-sales problems (if any) perfectly in a worry-free way. So, it is wise to rely on SaleYee to dropship baby products and improve your customer satisfaction.


Start your dropshipping journey for free NOW ↓↓↓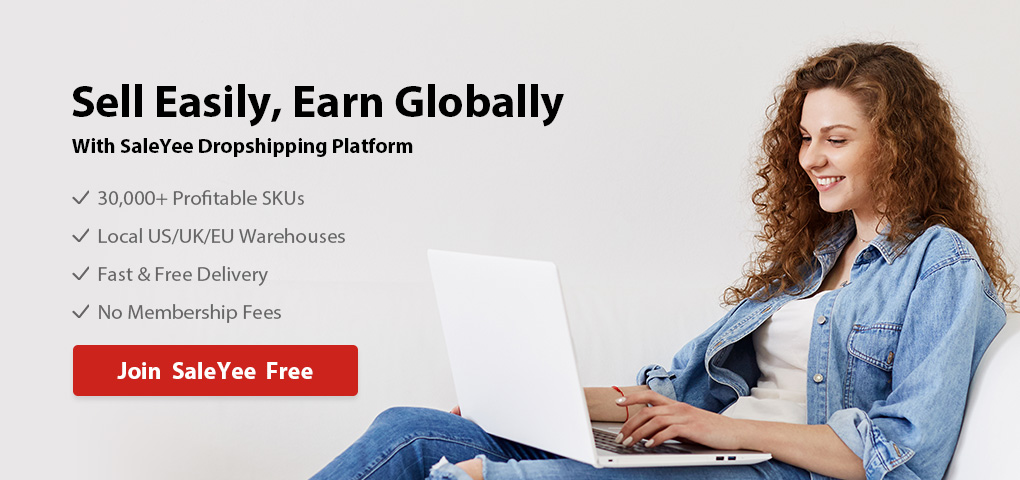 2. Made-In-China
The platform is created to connect people to Chinese suppliers, and they offer various baby products wholesale. It doesn't matter where you are in the world because the platform is not limited to China. You can find suppliers from anywhere and then dropship baby products.
However, the only issue with this platform is that they have incredibly mixed reviews. That is why it might be a good idea to research their dropshipping and delivery process thoroughly. Once you have done your research, you can decide if you want to go with this platform.
3. Alibaba
Alibaba has been in the business for twenty-two years now, and they pride themselves on the global wholesale trade. That is why you can go through their website and choose the best baby products wholesale UK to sell. They have many best-selling products that you and your consumers might like.
Keep in mind to choose products from trusted suppliers as there is always a risk when selecting suppliers with fewer ratings. The better suppliers you choose, the better your experience will be. You can then start dropshipping baby products in no time.
4. AliExpress
AliExpress is another whole baby items supplier that has made its name in the industry. They are part of the Alibaba group, and they also offer reasonable price points to the consumer. You can choose many baby products from their categories and dropship them.
However, one thing you need to keep in mind is that their delivery times are extensive. They usually deliver in a few weeks, which is not suitable for all dropshippers out there. If you don't mind waiting and your consumers don't mind waiting, you can keep this option open.
5. The Wholesaler
The Wholesaler is a trusted baby products wholesale UK supplier for the past twenty-two years now. They offer a long list of suppliers that supply the best baby items in the UK. You can be at ease knowing that you will be in touch with trusted suppliers fully vetted by the platform.
The Wholesaler also offers a separate category for dropshippers looking to use this platform. You can access the baby wholesale items in those categories and start your business in no time. The prices are competitive, and you will find many high-quality products in no time.
6. DHGate
DHGate is a Chinese marketplace for bulk sourcing baby products. If you are looking to dropship items in bulk, then this supplier is an ideal choice for your business needs. They offer global delivery, and you can dropship the baby items anywhere in the world.
The best part about DHGate is that they try to keep their prices as reasonable as possible, which means you will find many options that will suit your budget. However, not all the options might be bestsellers or profitable in the long run. Finding the right wholesale baby items will be a trial and error process that you will have to learn from.
The Best Selling Baby Products
Before starting to dropship wholesale baby items, you need to do your research on the products that drive the most sales. These products will be profitable for you and ensure that you become a successful dropshipper in no time. Here are the top baby products that will drive your sales:
Multi-function diaper bags
Playpens
Soft plastic ball pit toys
Storage baskets
Organizer bins for baby toys
Baby cloth diaper sprayer
Baby dolls
Wooden toddler beds
Wooden walker toddler toys
Children teepee tent
Baby blankets
Baby utensils
Baby diaper changing mat
Pacifier feeder
Baby food storage



All of these products are in high demand worldwide. That is because they are the products most needed when there is a newborn in the house. The products sell all year, which is why you will be profiting off these in no time.
However, you don't have to sell all these wholesale baby items as a dropshipper. You can choose the products you think are best for your business and then go from there. Once you do, you will not be disappointed as these products will be sold out in no time, and that is a guarantee.
All you have to do is choose the right supplier from our list, and you will have a smooth experience as a dropshipper. All the platforms are trusted, which is why they are on our list.
Final Words
That was your complete guide to the best six baby products wholesale suppliers. Our top choice of supplier is the SaleYee platform, as it is one of the best suppliers for all dropshippers out there. They offer fast deliveries worldwide, and their products are of incredibly high quality.
So, what are you waiting for then? If you want to start dropshipping baby products, now is the time with the best wholesale suppliers out there. You will make a profit in no time.