There are many home decor dropshippers in the USA, but of course, you don't need to settle for anything less than the best. In this article, we are going to talk about some of the best home decor dropshippers out there for home decor dropshipping businesses.
In answer to your question: Why should you only go for the best? We'd say you need to consider them because the home decor category is a marsh. You have to tread carefully and look for looming pitfalls. In simpler words, you need to rely on the best source because they offer the best products.
Best Home Decor Dropshippers
Dropshipping makes no sense when your source retailer doesn't care about timely deliveries or when it doesn't harbor thousands of profitable SKUs. As one of the best home decor dropshippers, SaleYee.com, on the other hand, is a reliable dropshipping platform. 
With more than 30,000 SKUs that sell as toilet paper did in this pandemic, you can benefit from its variety, seamless integration, and a blazing fast 2-day free delivery. Since the platform has its self-built warehouses, you can rest assured that the products you sell will reach your customers without any unruly damage. That also makes possible the omission of a third-party product handler, which inevitably adds more to the speed.
When SaleYee dropshipping platform is there to take care of storing the products you wish to sell, process orders with zeal, deliver them with care, and also take care of any after-sale tantrums, you can focus on making your website more interactive, choosing products that sell, and enhancing your marketing skills.

When it comes to selling Chinese products from home decor dropshippers in the USA, you should consider Alibaba, one of the most popular wholesale home decor dropshippers. It is like the Amazon of China, and therefore, you can expect it to have hoards of home decor products like wall decors, blinds, furniture, and more.
The one feature that makes this platform relevant is that you can find good quality products starting from $1. However, before doing that, be sure to read the seller's profile and what his or her customers are saying.
Besides this, you can also avail trade assurances for a payment, which makes Alibaba liable for any damages to the product until it's delivered.
3. Sagebrook Home
The quality of this platform's service is as fancy as its name. With more than 8000 products at hand, the store can provide you with a lifelong supply of products for dropshipping home decor.
What's keen is that they keep on changing and innovating their products. So, don't be surprised if you see a different version of the same product you are selling on the platform.
Their will of topping the list of high-end home decor dropshippers is taking them to new heights.
However, their price points could be a little high.
4. SaleHoo
SaleHoo is truly versatile when it comes to selling products that you might not find anywhere else. Having different price points, you can find high-end, high-quality products. But for that, you'd have to pay a monthly subscription.
As it seems, beginners with no money down could ignore this platform for its hefty fee. However, if you're serious and you want to delve deeper into the troves of products SaleHoo offers, you can even go for a yearly or lifetime subscription.
Once you do that, you'll not only have access to premium store directories but also to their email support and Market Research Labs.
5. Design Direct Creative Group
Among many home decor dropshipping companies, the name implies many things about the company and one of them that is very true to the bones is its ability to craft newly trending products within weeks.
That goes to say that you'll receive the best of the products out there in your inventory without waiting for them for millennia. Inevitably, you'll become a one-stop shop for new inspiring designs.
As to answer how they do it so fast, we can credit their industry research and manufacturing teams.  
6. Creative Coop
For serious dropshipping enthusiasts who are looking for wholesale home decor dropshippers, the Creative Coop has many things simplified yet made official.
For example, if you have to buy things in retail, you'd have to visit their brick-and-mortar warehouses. You can order wholesale from their online store, though.
But to do any of that, you'd have to first contact its management and obtain a resale certificate.
7. Homespice Decors
Owned by Junior Gupta, the Homespice Decors has the best American rugs you can find out there. Since it is a family-owned company, you can trust their diligent craftsmanship in producing quality rugs.
Besides rugs, you can also find other amazing and original products to sell. The company dropships to over 2000 dealers in the US, so, you can rest assured about their professionalism.
8. Gift Craft
As opposed to the other home decor dropshippers mentioned here, the Gift Craft only dropships small products that can perform well for gifts.
So, you can expect to include decorations, cushions and pillows, and other small decor items that can accentuate the looks of a house.
9. Chinabrands
The Chinabrands can make your dropshipping business easy if you're a beginner. Its easy-to-access inventory, high-quality and custom-built furniture, and top brands make it favorable among newbies.
This and the fact that it has conquered Asia in dropshipping makes it stay on this list. You should consider this one if you wish to target customers in Asia.
10. Eastwind Gifts Distributors
Again, a gift distributing platform, the Eastwind Gifts Distributors offers small and portable products on their easy-on-the-eyes website. You can find plenty of ornamental jars, lanterns, curtains, clocks, and other decorations by navigating their easy menu.
But first, know that this is one of the wholesale home decor dropshippers. The perk of using this platform is that it offers a 10% discount on a $700 purchase.
11. Alrug
Alrug has an Arabic prefix "Al" and that alone should be enough to let you in on their serious rug craftsmanship. The only drawback, as well as the advantage of this platform, is that it is dedicated to rugs only.
The prices they offer touch the sky because they are serious about their craft. At the same time, they offer flash sales in which you can buy a rug for as much as $300.
Final Thoughts - Why Choose SaleYee.com as Your Home Decor Drosphipper?
The home decor dropshippers discussed here have their unique features. Some are dedicated to one product, others offer variety. But if you're tired of making the wrong choices and you want to settle on one, we recommend that you should go for SaleYee dropshipping platform.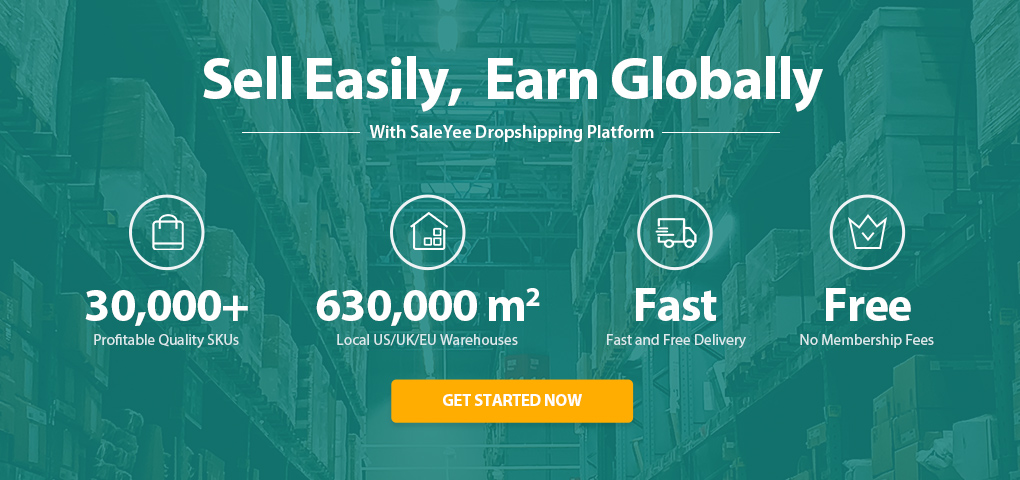 Simply because it offers both variety and quality. Their system is easy to follow and navigate through, and the whole process of working with them is worry-free as you already read.
And that's the end of this article. Do know what you think about these platforms in the comments below. Also, don't shy away to suggest any other platforms you know that could adorn this list of best home decor dropshippers.